The GaiaMind Project
Global Meditation and Prayer
January 23rd, 1997
Simultaneous Global Meditation and Prayer
17:30 to 17:35 Greenwich Mean Time
Dear Friend,
We would like to invite you to participate in a global meditation and prayer on January 23, 1997. The auspicious symbolic significance of the planetary alignment pattern on this day offers an unprecedented opportunity for focused collective intention. We hope that by joining together we may initiate a shift in our understanding of our relationship with Gaia, from one in which we fear that our species might be a cancer on the planet, to one in which we recognize ourselves as the living Earth's emergent self-reflexive consciousness. Our intention is to use this astrological mandala to identify one moment for people to join together in a resonant expression of unified global consciousness. Perhaps through the power of intentional synergy we may help catalyze the evolution of consciousness and potentiate global healing.
Participation is simple. On January 23rd, meditate, pray or do whatever brings you into closer contact with the Divine for five minutes starting at the local equivalent of 17:30 GMT. Then, at 17:35 GMT, join in a minute of focused visualization. White light seems to be the most universal spiritual archetype, so we suggest envisioning white light in unison as a way to bring ourselves into resonance at the moment the astrological star pattern becomes exact in New York City. Some people may also choose to extend their meditation, prayer and visualization for a longer period of time and/or express their intention through ritual, ceremony or celebrations throughout the day and into the evening under the Full Moon.
In addition to the simultaneous global mediation and prayer, many may choose to celebrate the moment when this pattern in the heavens becomes exact at their own unique place on the Earth. The alignment pattern will sweep around the planet over 24 hours like a vast relay race in consciousness, perfecting sometime between noon and one p.m. across each time zone. The easiest way to find the precise time for your location is to have an astrologer cast a chart with four degrees Gemini rising on January 23rd at your latitude and longitude. Astrologically, this particular date represents the first of a series of exceedingly rare multiple conjunctions in the first degrees of Aquarius spanning several weeks. Archetypically, the major planets involved represent the benevolent expansion of spiritual liberation.
If you have Internet access, visit the GaiaMind Project's web site at http://www.gaiamind.com. We invite insights and creative contributions from anyone who would like to participate in this unfolding process and welcome cross links with other sites. The web site has pages with the chart and basic text in a number of languages so that international participants with Internet access can print out, photocopy and share this information with others. Individuals can also register their intention to participate using a form on the web site. Those without Internet access can register by mail or fax.
Your help is crucial to spread awareness of this opportunity to catalyze the transformation of global consciousness. By sharing this information with others in your community you will help to ensure that this is truly an international event. Please photocopy and distribute the following flyer to anyone who might be interested.
Peace & Health,
Juliana Balistreri & Jim Fournier
The GaiaMind Project
---
GaiaMind
Global Meditation and Prayer
January 23, 1997
Imagine people all over the world sharing a moment of meditation and prayer, a moment of unified global consciousness when people from the world¹s many diverse spiritual traditions simultaneously focus attention on our interconnected relationship with Gaia - the living Earth. Each person bringing love, compassion and understanding to embrace the possibility of healing the social, ecological and spiritual challenges before us. As we approach the dawn of the new millennium, increasingly aware of our interdependence, we may choose to join together as a global community in such a moment to catalyze planetary transformation by both envisioning the light and facing the darkness of our times.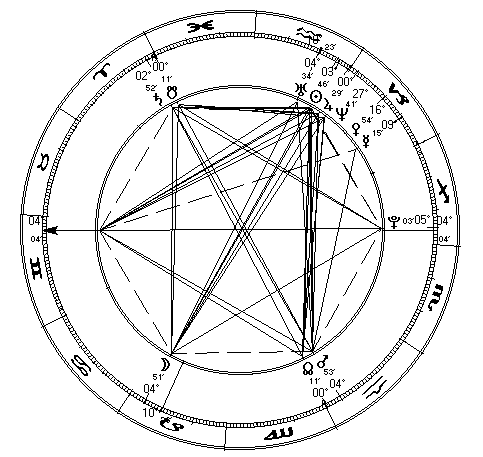 Planetary Alignment
January 23, 1997 - 12:35 p.m. New York City
Simultaneous Global Meditation 17:30 to 17:35 Greenwich Mean Time
On January 23, 1997 there will be an exceedingly rare and archetypally appropriate planetary alignment, a moment in time expressed in the heavens as a perfect six-pointed star. This pattern comes on the exact day that three outer planets, Jupiter, Uranus and Neptune are conjoined together for the first time in almost two hundred years. Not since the Renaissance have all five outer-most planets been so harmoniously arrayed. On January 23rd, this cluster of planets will center on the first degrees of Aquarius, joined by the Sun, with the Full Moon opposite them all. Thus, perhaps this pattern may also be seen as a symbolic representation of the long heralded dawning of the Age of Aquarius.
www.gaiamind.com
The GaiaMind Project
20 Sunnyside Avenue - Box A325 - Mill Valley - CA 94941 - USA Earth - info@gaiamind.com - 415-436-0123 - Fax: 415-621-7790